Toni Had Breast Reduction in Thailand
 "Having breast reduction and a tummy tuck in Bangkok proved to be the best decision I have ever made.  I did wonder about whether I had made the right decision to have the breast surgery and the tummy tuck done at the same time, but in hindsight I am so glad that I did".
Breast reduction / Tummy Tuck Bangkok before/after
disclaimer: Individual results may vary.
I had relentless back pain from the weight of my ginormous breasts (D cup) causing me to have permanent indentations on my shoulders by the thick granny bra straps trying to hold my boobs up. My posture was poor as I was weighed down with the heaviness and therefore tended to slouch, my shoulders being rounded.  If I sat up straight it appeared as though I was showing off my boobs to everyone around me, or literally shoving my huge mammaries in their faces, as they just stuck out like a platform under my chin.  Of course at that age they were a "boy magnet", which in turn made me nervous and shy.
I struggled with weight problems around my tummy area and each time I looked in a mirror, I thought I looked fat.  In reality I was a "normal" size, albeit of the larger cuddly frame sort, but my ponderous tits made me appear so much larger. I am not exactly short being 5ft 9in tall, but my frame was an hourglass of big boobs and big hips slash rear end.  I remember watching the BBC television show named "What Not to Wear" hosted by Trinny and Susannah, the British fashion advisors and who had their Body Shape Bible.  I was definitely in the "hour glass" body shape group – think Nigella Lawson – with my E cup boobs and rounded lower body, but I was not on television sucking my fingers seductively of sticky cooking ingredients.  I was firmly in the world of reality with my big bosoms and short waist contributing to making my whole body look shorter than it really was.  The overall effect made me look like I weighed more than I really did.
I have just turned 40, I am married with 2 sons aged 12 and 15 and a husband that I have been with for 21 years, of those years we have been married for 18.  I have always worked full time in a high-pressure office management position that can be quite stressful at times.  I am quite strong willed and single minded, so the decision to have plastic surgery in Bangkok was made by me alone, with little input from anyone else.  I had to do this for me.
I am surrounded by an amazing group of individuals both at work and in my private life of family and friends.  I am not what you would call an adventurous soul being quite methodical in everything that I do. When things go wrong, I quietly tell myself to put my big girl panties on and to get on with whatever I have to do, which is the thought that I had in September of 2016 when I realized that no amount of diet or exercise was going to change the shape that I was.
I went searching on the Internet and came across Destination Beauty.  I was really impressed with the personal testimonials that were on their website, so I sent off an email and they got back to me within half an hour.  Their quick reply impressed me even more.  Destination Beauty were not pushy at all, they merely told me the information that I had asked for and did not hound me for a commitment.  After emailing Destination Beauty, I went to one of their seminars held in Brisbane with my husband in town.  I then made up my mind to go ahead with surgery in Bangkok for a breast reduction with breast augmentation and extended tummy tuck. Compared to the cost of having it done in Australia, it was a no brainer.  The total cost with Destination Beauty amounted to $18,000 and that included my return airfare, accommodation for 9 nights plus all of the surgery costs.
I asked my husband if he would go with me to Bangkok for my surgery, but he said that we could not afford for the 2 of us to go and apart from that, there were the boys to consider.  He said he was quite happy for me to do whatever I felt I needed to do and he would happily stay home and look after the kids.  Upon hearing this I rang my "whenever girlfriend" who is a clinical psychologist to see if she would come with me, as I did not relish the thought of going alone.  Of course, she said yes.  Unlike me, my girlfriend has travelled quite a bit, having lived in Japan for a number of years.  She is also very pragmatic, logical and practical – traits that are not on the top of my list of attributes.  However, neither of us had been to Thailand.
I had not told anyone about my plans until I had booked everything, because this was something that I had to make up my own mind about.  There was only one friend that was apprehensive about me going to Bangkok for surgery and my sister who is a nurse expressed some concern about how I would manage the pain after the operation.   I was determined not to let them sway my decision, as it felt right for me.
We were met at the airport, which was fantastic as we didn't have to worry about negotiating the airport throng and try to get to the hotel by ourselves.  I had no nerves on the plane whatsoever, but I was a tad concerned about the language barrier.  My thoughts were that if others could do it, then so could I.  Upon meeting my Board Certified Surgeon Dr. Ring I discovered that he was friendly and charming, which only boosted my confidence in his ability to create the new me.   I have only been in hospital twice when I gave birth to my 2 sons and in 2002 I had an operation on my elbow, so I would not say I was a veteran of going under the knife.
Pre-surgery jitters crashed down on me when I was wheeled into the operating theater.  I had walked into the Samitivej Thonburi Hospital in Bangkok with no qualms whatsoever. But, I got apprehensive and began to worry once I realized it was all about to happen.  I gave myself a stern talking to and focused on the positives of what I would look like once it was all over.  I actually use a lot of self-talk and visualization when I get thrust into the too hard basket of life.
Having breast reduction and a tummy tuck in Bangkok proved to be the best decision I have ever made.  I did wonder about whether I had made the right decision to have the breast surgery and the tummy tuck done at the same time, but in hindsight I am so glad that I did.  The hospital was amazing as I had my own private room complete with day bed, ensuite and kitchenette.  The nurses were incredible with their caring manner and the funny antics if what we were saying to each other was getting lost in translation.  One of the nurses, my favorite actually, apologized to me for not speaking English better, so my fears of the language barrier proved to be totally unfounded.
The first 2 days were really rough pain wise, probably due to the fact that I had both surgeries at the same time.  The pain in my stomach was the worst, but the nurses were quick to help with pain relief medication. This was when I felt at my most vulnerable; as I thought the pain would never end.  I had a reaction to the pain medication that made me feel really hot, apparently this is a side effect that some people may experience and I happened to be one of them.  The air-conditioning in my room got turned down to 18 degrees, so the nurses would all wear their woollies when coming into my room, as they thought it was way too cold. By the end of day 2 when my catheter was removed I knew that I would have to get up to go to the loo, so it was more self-talking to get me over this hump.  Come day 3, I was healing really quickly and the drains were removed.  From thereon in, I felt confident that I had made the right choice.
Post surgery I spent the days mostly meandering around the stunning gardens of the Somerset Park Hotel where I was staying.  I was not in the mood to go buzzing around Bangkok, but I did manage to have a tuk tuk ride and to visit the night markets.  At one point I went to buy some sports bras with my girlfriend and I can remember saying to her the minute I had put one on, "Is this how they are meant to fit?  Is this what normal feels like?"  I had gone from a 14F in my granny inspired bras to a 12D and it felt amazing.
Whenever I had any concerns no matter how small, I could chat to one of the staff of  Destination Beauty, as their offices were located in the hotel premises.  Having never left my children or my husband for any number of days before, I actually relished having this "alone time", but towards the end of my stay, I will say that I began to miss the kids a bit.
Post plastic surgery in Bangkok, I could not wipe the smile off my face. The first thing I did was to throw out all of my bras and then I tackled the clothes as I had gone from a size 14-16 down to a 10-12.  I threw out 5 bags of clothes and had the greatest delight in creating a whole new wardrobe for myself.

As a precautionary measure I did take my surgery notes and myself to my local general practitioner, who is simply amazed at how well I have been healing.  I am only 4 weeks post plastic surgery, but I feel amazing and my scars are healing really well.  My boys and my husband are helping me with the chores around the house as I am not meant to be lifting anything with much weight for the time being, so I have had to let go of my control issues in that department.  I went to work during the 4th week after surgery and despite being a bit tired at the end of the day, my coworkers were astounded at the change and have complimented me on how amazing I look. I am still smiling every time I glance in a mirror.
I now have no more back pain from lugging the melons around on my chest and the bra strap indentations on my shoulders are a thing of the past.  I am determined to buy a little black bikini for next summer!
Next Steps Towards a Skin Removal Surgery, How Much Does It Cost?
Please contact us via email info@destinationbeauty.com or FILL IN THE EVALUATION FORM CLICK HERE! See our skin removal surgery CLICK HERE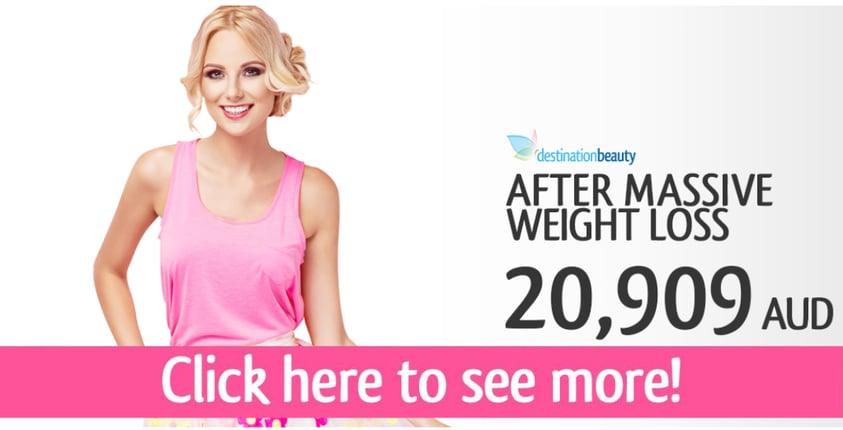 Read more stories about skin removal surgery in Thailand – Read about Anne's skin removal surgery in Thailand.